"MinBoard" e-Learning System
This platform offers  the e-Library contents and the latest technology in the e-Learning systems industry such as high-definition video conferencing, secure live streaming, server-side recording, advanced interactive whiteboard, advanced collaboration and moderation, live screen sharing, polls and surveys, test and assessment, insights and analytics.
توفر هذه المنصة التعليمية العامة العديد من الوظائف والأدوات التي تمكن المعلم والمعلمة من التواصل الفعال مع طلابهم على أساس فردي أو جماعي، والتدريس وإجراء التقييم والاختبارات وإنشاء الدروس باستخدام أدوات التأليف في المنصة وتطعيم الدروس بالمواد الإثرائية المساعدة التي تزخر بها المكتبة الإلكترونية في هذه المنصة لتجعل من التعليم الإلكتروني أمراً ممتعاً وفعالاً ومفيداً
"MinBoard" provides two e-Learning services: the Quranic Platform and the Curricula Platform
هذه المنصة الإلكترونية مخصصة لتعليم القرآن الكريم للصغار والناشئين من مرحلة الروضة إلى المرحلة الثانوية، وتوفر المنصة مايحتاجه المعلم والمتعلم من وظائف وأدوات للتواصل الإلكتروني الفعال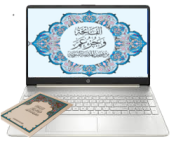 This is a platform to help teachers to teach Quran for kindergarten pupils and K-12 students. Teachers can use the platform to schedule online sessions or recorded sessions. The virtual classes can be one-to-one or one-to-many
هذه المنصة الإلكترونية مخصصة لتدريس منهج اللغة العربية للناطقين بغيرها ومنهج التربية الإسلامية وكذلك المنهج الإثرائي الذي يخدمهما حيث يجد المعلم العديد من الوظائف والأدوات التي تمكّنه من التدريس بكل كفاءة واقتدار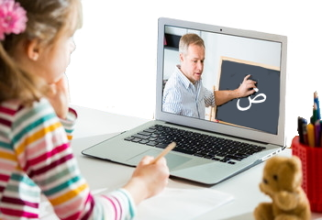 This platform enables teachers to teach the Arabic Learning Curriculum and the Islamic Education Curriculum, and to employ the supportive materials for making teaching more engaging.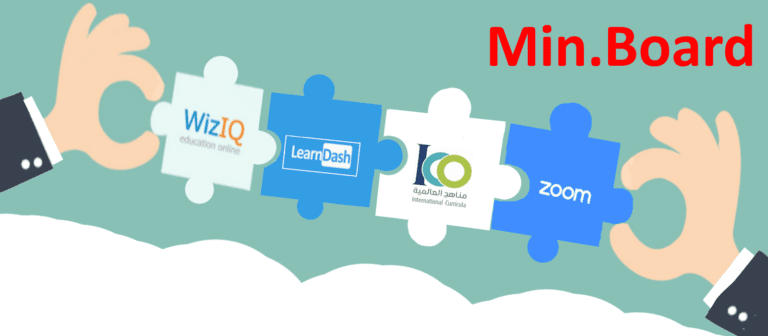 This platform "Minhaaj" employs the e-library and the learning management system "MinBorad" which fully integrates three technologies: WiZIQ Technology, Zoom Technology and LearnDash Technology. Currently you may use the e-Library along with WiZIQ Technology. Moreover, in September 2020, the integration with the other two technologies (Zoom and LearDash) will be finalized where you can then find additional great teaching tools and features.Once you sign up, you will be registered as a learner as a default account. To be upgraded to a teacher account just email us at info@iconetwork.com 
To start using WiZIQ Technology you may go through these documents to help you get started:
What is MinBoard ?
MinBoard is a platform for anyone and everyone who wants to teach or learn Arabic Curriculum, Islamic Curriculum and the Supportive Curriculum live, online. With a virtual classroom, educational content and a session scheduler, MinBoard works best for anyone's online teaching and learning needs. Try it out, it's all free!
Does it cost anything to teachers?
MinBoard is absolutely FREE. We do not charge anything from teachers for using MinBoard for online teaching. In future (within a few months), we will offer certain advanced features on MinBoard for a monthly subscription fee. However, basic features on MinBoard will always be free.
Do the students have to pay anything?
MinBoard is FREE for students too. Students can search for teachers and learn online from them. They may seek online help for homework or assignment queries. They can use MinBoard's virtual classroom to hold live discussions or sessions.
How can I get learners?
If you upgrade as a teacher, MinBoard adds your profile to its teachers' directory to let students search and contact you. We suggest you enter as much of your details as you can in the profile to make it more searchable. In order to be upgraded as a teacher you need only to send us an email (info@iconetwork.com) to upgrade you from (learner) to (instructor) role. The default sign up role is (learner).
How would my learners contact me?
The learners would contact you through messages routed through MinBoard. We deliver these messages at your email address you used to sign up on MinBoard.
Additionally, you can choose to make your email address show up to your contacts to make learners approach you directly.
How will I know if any learner has viewed my profile?
Once you update your teacher's profile, it gets searched and listed for your teaching skills and expertise. Currently, the system does not expose the member's name and details who have viewed your profile.
I am interested in more information about the use of MinBoard for instruction. How to start on MinBoard?
Getting started on MinBoard is easy and simple.
Invite your contacts to join MinBoard or search for members who share your subjects on MinBoard to invite them. After they register, they exist as your contacts.
Schedule online sessions with them.
Meet in the virtual classroom to share and exchange knowledge live and online.
How is MinBoard different from other learning tools out there?
MinBoard puts learners and teachers together regardless of the boundaries and enables live, online teaching for absolutely no cost to the teacher or the student. Learning live in a virtual classroom from a teacher of your choice, we believe, is the next best alternative to face-to-face teaching. Further, with all the "digital" benefits that computers offer us, teachers can explain concepts using 'learning assets' such as images, videos, PowerPoint presentations, documents etc, along with the e-Library rich contents. Unlike face-to-face classes, sessions get recorded so that teachers and students and even their parents can revisit and search for a certain topic. Real time interaction in the virtual classroom allows for live feedback from the students making MinBoard a valuable tool for teachers. Another advantage of MinBoard is that it is a discovery platform to find good teachers and high quality free educational content that is rated by the learning community.